TEACHER RECRUITMENT
I. WHO CAN APPLY TO ABVN?
All native English speakers or fluent non-native English speakers with spare time, patience, and a passion for helping others learn and grow.
II. APPLICATION PROCESS: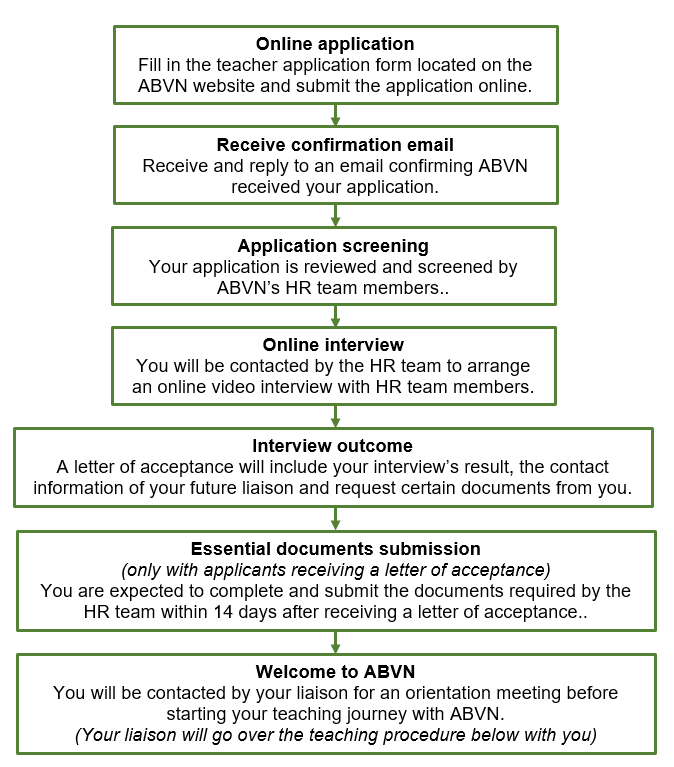 III. TEACHING PROCEDURE: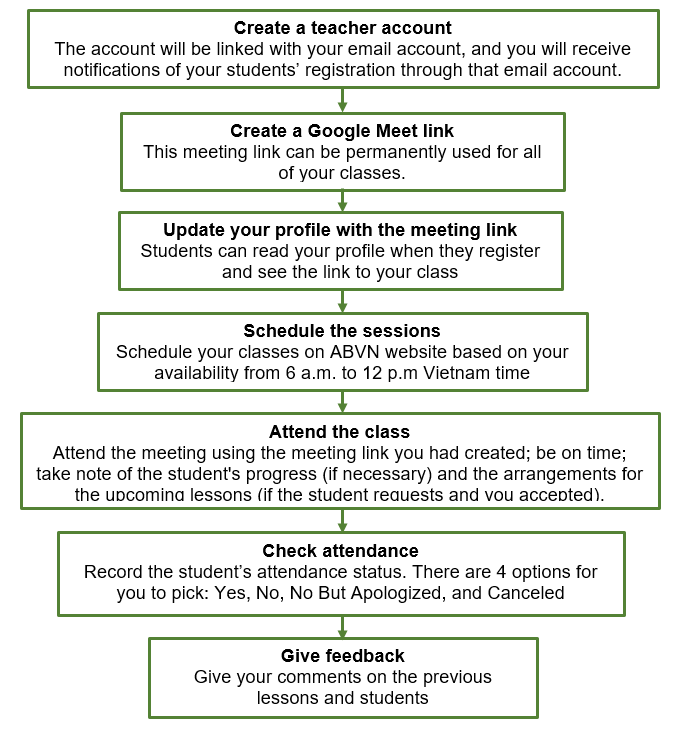 IV. WHY SHOULD YOU TEACH WITH A BETTER VIETNAM?
- You can work from home in your own country and choose your availability as well as how to structure your sessions.
- You will interact with our students, make friends with them, and experience their improving process.
- You will have meaningful and memorable moments helping ABVN students.
- You will connect and expand your network with other volunteer teachers from different countries.
- You will be welcomed warmly whenever you visit Vietnam.
V. FAQs:
1. Do I have to be a professional teacher or have training in TESL (teaching English as a second language) to volunteer for A Better Vietnam (ABVN)?
No, a good command of the English language is sufficient. If you are a native English speaker, you are qualified to join us.
2. Do I need to know how to speak Vietnamese to volunteer with ABVN?
All students have a basic level of communication in English. So being able to speak Vietnamese is not required.
3. Do ABVN students know how to read, write, and speak English? How well?
To become ABVN students, applicants have to get through an application process including a short interview to test their English skills. Only students who can basically communicate with native speakers and have a solid passion to master the language are accepted.
4. Is there a curriculum for me to follow? How will I know what to teach the ABVN students?
We have prepared discussion topics for you to support your teaching, or else, you can develop your own teaching materials as you wish. Besides, there will be a mentor to guide you through teaching or teaching materials in the first month if you need it.
5. What is the age range and educational background of ABVN students?
The age of students is from 16 to 25 and the level of English is required from Lower-Intermediate to Upper-Intermediate. Most of them are living in or from remote areas, or are having difficulties approaching English.
6. How much of a time commitment would be required if I become a volunteer teacher with ABVN?
Your availability is entirely up to you. You can teach as often or as little as you like. However, in the first week at ABVN, you are required to schedule at least 3 lessons.
7. Why should I become a volunteer teacher?
ABVN is a social project. You will not have any financial benefits but mental health ones. Working as a volunteer teacher at ABVN, you can help the Vietnamese youth to enhance their English and have a better future.
8. What are the rewards/benefits of becoming a volunteer teacher at ABVN?
The benefits that a teacher at ABVN can achieve, such as:
- Certification after 3 months of commitment with 30 lessons in total.
- Certification and recommendation letter after 6 months of commitment.
- Teachers are those who want to spend their free time transmitting their knowledge and experiences to young people which helps them to improve themselves and have a better future.
- A Better Vietnam teachers always receive a warm welcome from members and students of the project when they come to Vietnam, we are always willing to become your tour guide and share about the culture, places, and cuisine here;
- A Better Vietnam teachers are always respected and cherished by our students with your sacrifices.
9. What platform should I use for teaching at ABVN?
- Google meet is recommended for teaching at our project, but if it is not convenient, you are able to use other platforms that you prefer. Perhaps, whatever platform you use, it is obliged to use only one meeting link during the time teaching with ABVN.